Easter Camps are coming!!!
Posted on by Steve
PAS are running several Easter Activity Sports Camps over the next couple of weeks!
Camps will be based in and around the High Peak area and are open to boys and girls from 4 years old up to 14 years of age. Locations for our 'Soccer & Multi-Sport' camps include -
Glossop – St. Margaret's Primary School
Buxton – Fairfield Endowed Junior School
Chapel – Chapel-en-le-Frith Primary School
Disley – Disley Primary School
All the above camps run from 9.30am until 3.30pm and cost just £12 per day. There are also discounts for more days and there are half day options from £7. For more information, click the link below!
Click here to view our Easter Camp flyer / booking form.
Don't forget about our 'Adventure Camps' which PAS are also running through the holidays… Various activities will be on offer such as Mountain Biking, Adventure Days in Bushcraft and Shelter Building, Walking Expeditions, Rock Climbing and Flat Water Canoeing!
The camp starts at 9.00am and finishes at 5.00pm our Unit in Hadfield, Derbyshire. Prices start at £20 per day and again discounts are available for multiple days.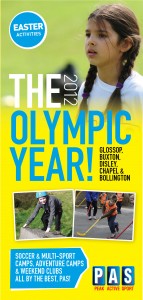 Click on our flyer above to find out more… or just visit our Holiday Camps page on our website -  http://www.pas.uk.com/holiday-camps.php