PAS coach Mark visits Spurs.
Posted on by Steve
Peak Active Sport Director, Mark Jennings, has been on the look out for new coaches to work with PAS and also with Soccer Academy in the US. Every year Mark and Paul Ellis, President of Soccer Academy, hold interviews all over the UK. Last week Mark and Paul interviewed over 100 possible candidates who want to either coach for PAS or coach over in America with Soccer Academy.
During their week, Mark and Paul were also invited to Tottenham Hotspur Football Club, where Soccer Academy have a strong link. Mark being a Spurs fan, was obviously overjoyed at the prospect of meeting all the players. They were also invited to watch the 1st team train and able to ask various questions to players and coaching staff.
Pictured below is Mark with Gareth Bale.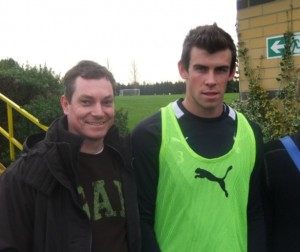 Pictured below is Mark with his favourite player Rafael van der Vaart.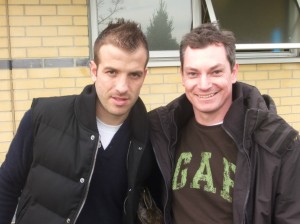 If you are interested in coaching with Peak Active Sport (PAS) or with Soccer Academy in America then contact PAS – info@pas.uk.com
Steve – PAS