Well done campers!!!
Posted on by Steve
Congratulations to everyone who attended one of our Camps over the February half term.
PAS ran 5 Camps in and around the High Peak, including Glossop, Chapel, Buxton and Disley. These Camps were 'Soccer & Multi-Sport Camps' were children can take part in various sports throughout the week. Some children attended for a day, a few days or the full week! PAS coaches said all participants were fantastic and everyone seemed to have a great time!
Pictured below are children from our Glossop Holiday Camp.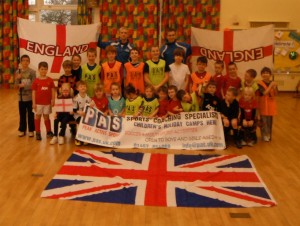 We also ran our 'Adventure Camp' which again was another success! Various activities were on offer throughout the week, however we had to cancel Tuesday and Wednesday due to health and safety on our walking and mountain biking routes, snow and ice being the reason. Monday, Thursday and Friday still went ahead and again everyone who took part did a great job!
Picture below are children on the low ropes course before heading to the high ropes course.