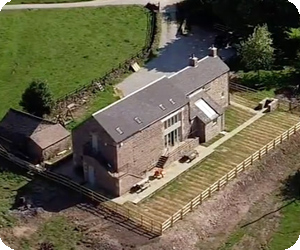 OFF Due to COVID-19 – Back next year (2022)
Residential Adventure Camps…
Back Dane in Macclesfield
We are once again at our new location for our Residential Adventure Camps, Back Dane cottage in Macclesfield!
Following on from several fantastic years at Shinning Cliff in Matlock, our new venue and location is truly out of this world! Again set in its own dense woodland, it is the perfect place to host several days of fun and adventurous activities.
This wonderfully presented venue hosts many brilliant facilities and therefore sets us up nicely for our stay. Upon arriving at the venue, following a beautiful countryside drive, you'll be blown away by its scale and overall feel. Space is in abundance at Back Dane and you very quickly feel at home within its stunning surroundings. With its truly awesome atmosphere, you get a real feeling of tranquillity and excitement. We believe that this new location and high standard of facilities play an important role in helping young people feel comfortable and relaxed.
Back Dane cottage is situated in the Peak District at the western end of The Roaches. It is approximately half way between Leek and Macclesfield. In recent years the building has undergone a huge renovation programme that takes the building into the 21st century by providing bunk accommodation for up to 23 people in 5 comfortable bedrooms. 
The cottage also contains a sitting room, dining room, fully fitted kitchen, a large, bright activity room, a boot room and laundry downstairs as well as 2 shower rooms and 4 toilets.  It is set in beautiful open land that leads down to the River Dane. PAS Staff and participants will be based exclusively at Back Dane and from here our daily activities will be carried out. For further information about Bank Dane, click on the link – www.backdane.co.uk
Activities may include –
Team games, orienteering and problem solving tasks
Survival skills and shelter building (Bushcraft)
Adventurous activities and camp fire preparation
Mountain Biking day trip
Rock Scrambling & Climbing
Day and night walking expeditions
Low & High Ropes Course (Pending for Summer 2020)
Canoeing
Booking early is essential to save disappointment as only 15 places are available on a first come, first served basis.
Summer Only (4 days/3 nights) – Dates TBA
Summer Residential activities will include – Team games, orienteering challenges, problem solving tasks, bushcraft activities including survival challenges, shelter building and camp fire preparation. There will also be a night walk, plus rock scrambling activities, stream walking, flat water canoeing and mountain biking!
Early Bird Offers!
Summer 4 Day Cost – £235 or £255 after May 2022
Important information…
Open to boys and girls, from 8 to 16 years of age
Camp starts at 8.00am on the first day
Camp finishes at 6.00pm on the last day
Drop off and pick up is at PAS Unit 5, Rossington Place, Graphite Way, Hadfield, Derbyshire. SK13 1QG
Application forms and other documentation for parents/guardians…
For any more information on any of our Adventure Camps or Holiday Camps please contact us.
Please note that some activities are delivered by the Hollowford Centre, click here to view their website or here to view their AALA certificate.