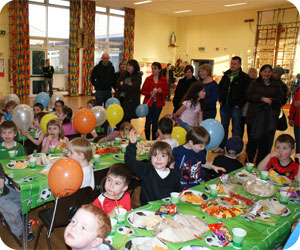 Birthdays
Enjoy a birthday to remember and choose a unique way of entertaining your child and ALL their friends on the big day!
From our exciting Soccer to Multi-Sport games, our coaches are well practised in the art of making sure your child and their friends have a party to remember.
Our fully qualified Peak Active Sport coaches will provide 1 hour and 30 minutes of sporting fun and games for children of all abilities, as well as a birthday trophy for that special person. Plus, each party caters for up to 16, 24 or 32 children aged between 4 and 14 years of age.
Simply select from our packages below:
Bronze | Silver | Gold | Platinum

Should you wish to use our PAS invitation template, please click here!
A selection of testimonials-
"This was the best party George has ever had, the PAS team were well organised and structured but still made the day brilliant fun.  We were able to use the area outside which was fantastic and so the boys were able to run around freely.  I can't recommend PAS parties highly enough, the two guys running the party couldn't have been more helpful – they even cut and wrapped the cake!  Above all, the boys and George had an amazing time and PAS made sure every child (of every ability) was included and happy.   Thank you PAS."
Anna (George's mum) – Great feedback from a cracking PAS party
"The party was excellent. The kids had a great time and I really enjoyed it because it was completely stress free! The coaches took all the strain and the kids didn't have time to get bored. Even the 2 kids who aren't into football really enjoyed it. Many thanks!"
Barbara (Nathaniel's mum) – Brilliant comments from a super party
"Patrick just loved every minute of his party. Coaches Sarah and Alex were amazing they made Patrick feel so special and important on his 6th birthday and were attentive to all the children making sure everyone was included. They were brilliant at rounding the kids up and helping dish out the food too! Thank you very much to Sarah and Alex – you are a credit to PAS!"
Orla (Patrick's mum) – Wonderful feedback which is greatly appreciated
To view more testimonials, please click the link – Birthday Testimonials